Pine Tree Farms Classic Log Feeder
Classic Seed Log Hanging Feeder
Long-lasting powder coated wire feeder. The easy twist-off roof makes it quick and easy to refill your feeder.   For all bird species.
Item#: 2934 (PTF8007)
Price: $21.99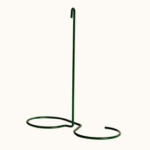 Hunter green Cylinder Feeder.
Designed for small cylinders, but easily holds all cylinders.  Large bottom rings allow non-clinging birds to feed with ease.
No assembly required. Nothing to screw or unscrew. Durable all-steel construction.
11″ tall and 9.75″ wide.
Item#: 4377
Price: $8.99
Extremely easy to use seed cylinder holder. 
Just slide the small or large cylinders onto the sturdy steel EZFeeder and hang.
A little hook at the bottom of the feeder allows you to hang a suet basket, tube feeder, or even another EZFeeder below your feeder.
Constructed of sturdy steel with a hunter green powder-coat finish. Size 8.5″ x 12″.
Item#: 4378
Price: $16.99
All products are available for in-store purchase. You may also call ahead, and we will be happy to place any item on hold for 24 hours.